The 2011 ECCC MTB Season kicked off this weekend with Northeastern's race at Highland.  A quick race recap is in the USAC Collegiate weekly update.  Full results are up on the ECCC website.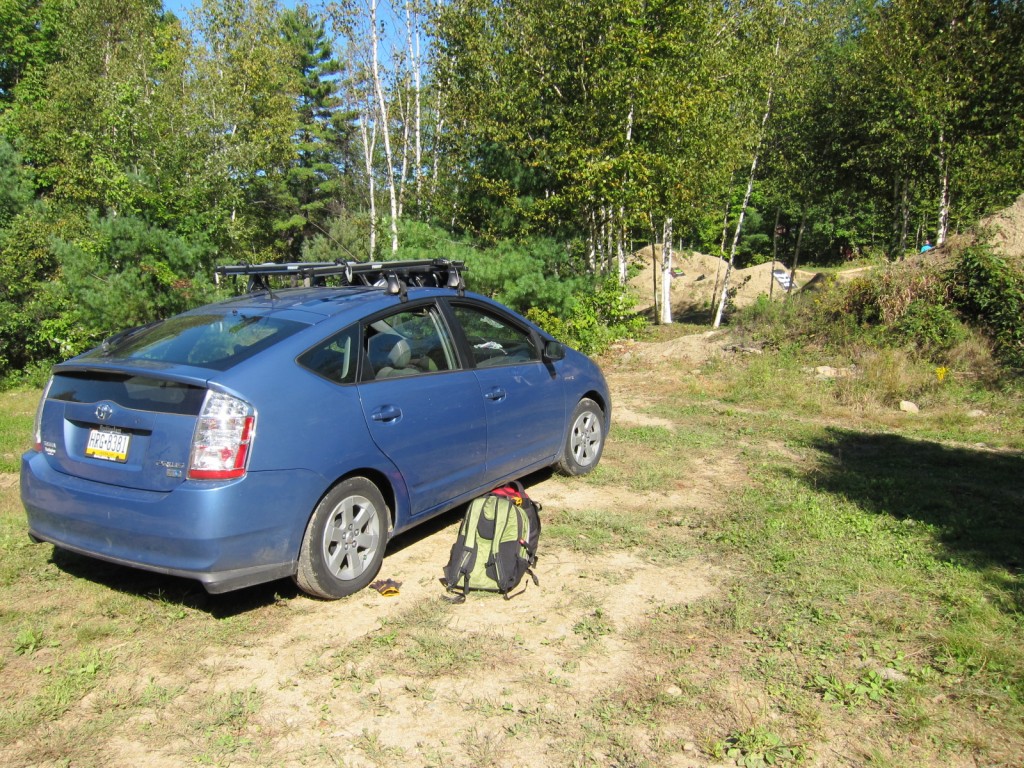 This was probably the smoothest season opener we've ever had.  Slalom, with full men's brackets, took just over two hours to run, with results up immediately afterward.  DH results were up about ten minutes after the race ended, and we were packed up and off the mountain by 3pm on Sunday.  Tim and I actually managed to get home at midnight, a definite victory.
This was nice, as Tim couldn't leave work before 8pm on Friday and I obviously didn't have everything together, so we left promptly at 10:15pm… and arrived at the mountain at 5:15am.  Basically just enough time for me to throw down my sleeping bag in the parking lot, get in, sleep for 20 minutes, and have Rob Meissner wake me up stomping around getting a team van ready to go get coffee and bagels.  Tim and I were pretty excited though to make it through the weekend with no Red Bulls, though there were plenty of Oreos involved.  Saturday evening we camped out at Highland with Northeastern and a good number of teams; the weather was gorgeous enough for the weekend that we didn't even bother with tents.  Tim, Sully, and I employed some strategically excellent timing that evening, throwing down bags and going to bed just before all assembled started burning tires in the parking lot campfire…
Our new timing system worked excellently throughout the weekend.  I was extremely nervous, given that the equipment's comparatively low-end and not really designed or used for cycling, that it would not work out well and be a huge hassle to return and try to get our money back, as well as a big disappointment.  However, it worked super well.  Out of four to five hundred detection events required to run this weekend's slalom and DH, it missed about about half a dozen.  One occurred in slalom qualifying but was a non-factor, the rider just turned around and did a re-run.  For the couple cases in DH we fell back to my stopwatch finishing time, the accuracy of which throughout the weekend was nowhere near affecting the results on Highland's relatively technical trails, even in the one Men's A failed read.
The gates combined with our experienced, smooth running crew, made slalom go by very quickly.  It was also exciting to see some very close racing, with a big boost in precision from the photogates.  The Men's A finale came down to something like a .17s differential, with Craig Michaud (Wentworth) coming up just short on recovering from a ~1.75s deficit against Peter McNulty (NU) with a very strong, heated second run, making a very exciting finale to Saturday's opening day.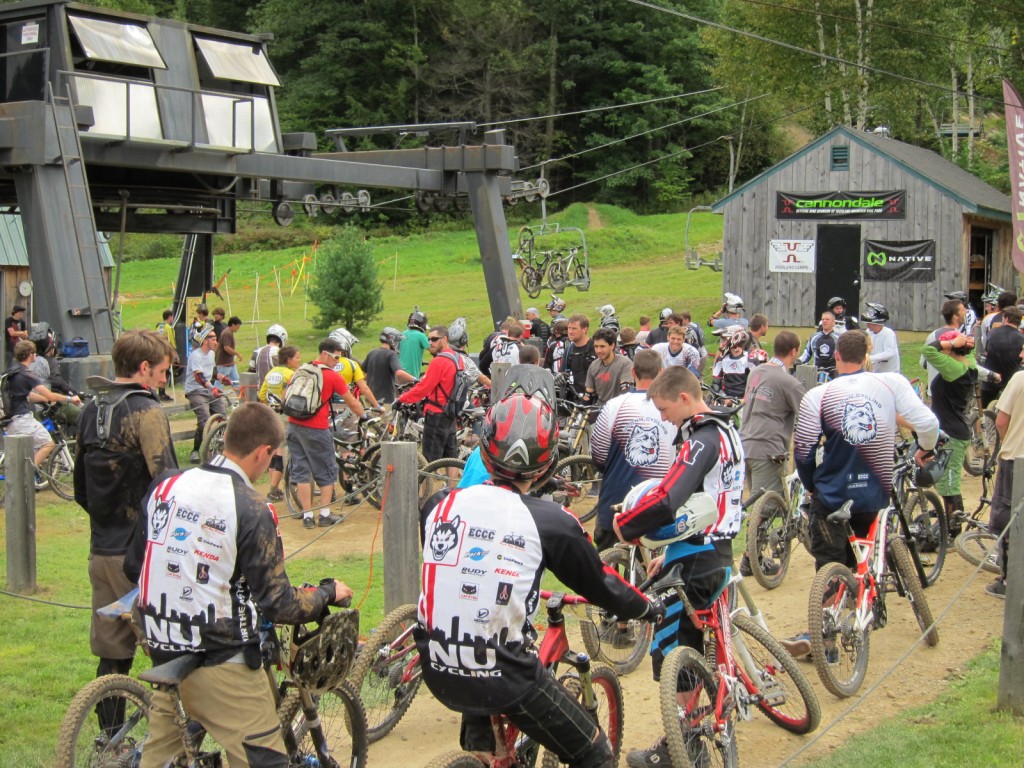 Other quick notes:
Highland's new XC trail is still short, about 3.5mi, but was well reviewed by racers and seemed technical enough that it didn't result in every rider stacking up on top of each other like the Kingman course.  It'll be great to see the trail extend over time.  Mark's goal is to eventually get about 7–11 miles of trails around the mountain, making a standard, very legitimate XC course.
Women's A numbers were thin, but Women's B was pretty solid, with 11 racers.  UNH in particular brought out a bunch of girls.  Although still not very robust, this was a relief as we were very worried about women's numbers going into this season.  On the upside, a handful of women also did DH, and 8 did slalom.
As awesome as the timing equipment was, Sam Mellen pretty much stole the show, seriously channeling some iconic Prefontaine in his new look…
A few more photos are available in the Flickr gallery.