Caitlin and I went up to T-town last Friday.  A couple monkey girls were racing so we had free tickets for the finish line bleachers.
I'd actually never been up to the track for Friday night racing before, so it was interesting.  Overall I thought it was cool, but a bit too much of a drive to do very often compared to my relative level of interest and limited connections to the track community.  I was actually a bit surprised how few people I knew that were there that night.
It was fun though, and a great cycling hangout.  Being way up there in all that space, it had a nice summer country fair feel to it.  Just with bikes and spandex instead of pigs and corn.  As a bonus, the fast food place on-site has a couple vegetarian, apparently organic items that didn't blow my mind but were definitely edible.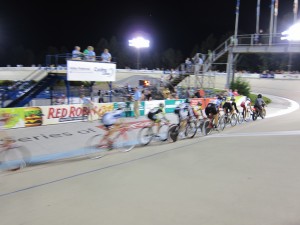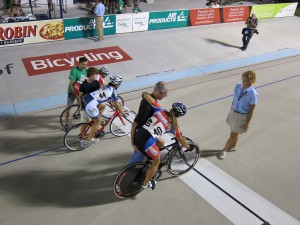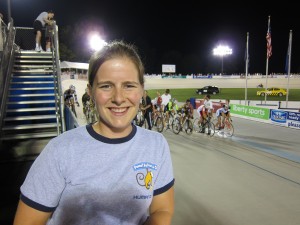 One thing that was indisputably great was just how many juniors were there.  There must have been a good fifty kids between 9 and 13 years old, boys and girls, that took part in various races.  Some of them were on bikes tinier than Caitlins'!
There are just a couple more pictures in the Flickr gallery.